Meet Kathleen Doehla
Kathleen Doehla, PT DPT, is a Vermont-licensed physical therapist. She has 20+ years of experience in sports medicine and orthopedics. Her three children were the inspiration for starting a home-based sports medicine and outpatient orthopedic clinic in 2012, and she is very thankful for her family's love and support of the practice.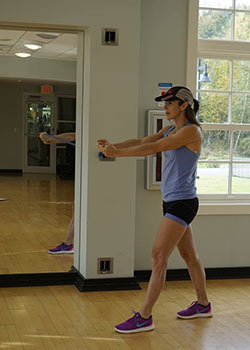 Kathleen brings to her practice a strong exercise and sports training background, advanced manual therapy training, a passion for biomechanics and neuroscience, and an understanding of the challenges of balancing the demands of training with a busy life, from amateur to elite levels. She graduated with honors from Hamilton College and received her Master of Science degree in physical therapy from the Medical College of Virginia in 1999, and her doctorate from Northeastern University in 2023. Kathleen has had intensive manual therapy training in spinal and joint mobilization techniques, myofascial release techniques and craniosacral therapy through the Center for Integrative Manual Therapy and the Upledger Institute. As a former high school and college athlete and 35 years of racing experience, she incorporates her lifelong background and love of exercise, sports and training to her practice. She has had the honor of working with clients from all walks of life, from those whom have never exercised before and would like to start a program, to high school, college and professional athletes and sports teams. In addition, Kathleen has trained with Kinesiotaping International and also has multiple Functional Movement Training certifications.
Kathleen is a former XTERRA triathlete, and currently enjoys swimming with the Stowe Masters program, trail running, mountain biking, skiing, and weightlifting, and loves spending time with her family. She knows how challenging it can be to prioritize your own health and maintain a healthy lifestyle when faced with the demands of a job and a family. A big focus of her practice is helping clients find that path to wellness and balance, using a brain-based approach she developed from her neuroplasticity research for her doctoral research project.