The Points North Physical Therapy Philosophy
Points North Physical Therapy takes a partnership approach to healing. The compass logo symbolizes the guidance and direction the PT provides to help the client get on the right path to wellness. The client is not a passive recipient of treatment administered by a practitioner, but is a partner with the PT in developing a treatment plan, and is not only expected but required to take an active role in rehab and recovery and follow through with the plan of care outside the clinic. This approach lays the groundwork for very successful clinical outcomes because it places responsibility for health directly in the hands of the client, and motivates clients to make needed changes in their life that will facilitate healing.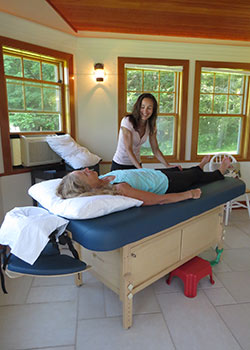 Physical therapy has amazing results but is not a cure-all for everyone. Points North PT is not into wasting clients' time. If a client's condition is not starting to respond to treatment within two or three sessions, then next steps will be explored, including but not limited to follow-up with a primary care provider for diagnostics (if this has not happened already); referral to a specialist; or consultation with another allied health provider such as a chiropractor. And if Kathleen finds during the first session that diagnostics are immediately indicated, she will hold physical therapy until the patient is medically cleared to participate.
Most clients want to recover and achieve their best level of health and get back to their lives as soon as possible. The treatment plan is a work in progress and is modified or progressed as the client's needs change. If a client is unable to stick with a plan of care outside of the clinic, then two scenarios are thwarting the client's progress: 1) The plan of care does not fit into the client's life, and the PT needs to work with the client on modifying the plan to make it manageable; or 2) the client does not understand or believe that the plan of care will actually help him or her recover from the injury, illness or condition, and may need further explanation or modification of the plan.
An uncommon third scenario is that a client is receiving secondary gain from a chronically injured status that may be financial or emotional in nature, or both. When this situation is identified, it is grounds for discharge from the practice. Points North PT provides short-term rehab that gives clients long-term results, and episodes of care are measured in weeks or months. It is not the place for people who want to passively receive long-term treatment but do not make the needed changes to help themselves.
Points North PT believes in a full body approach to healing with a consideration of all the different systems involved– not just the musculoskeletal system but also the fascial, circulatory, respiratory, visceral, lymphatic, and central and peripheral nervous systems. The human body is by nature a self-healing machine when in proper balance and alignment. When an injury persists, then the balance and alignment of the body and its systems must be restored, which can be accomplished through many treatment methods. This approach has met with great success in healing injuries, including those that have not responded to more traditional physical therapy approaches.